During the Fair, many Creative Laboratories are scheduled at the stands of Exhibitors. Labs can be replied in Stationery stores and sales points, to attract customers, increase walkability and sales!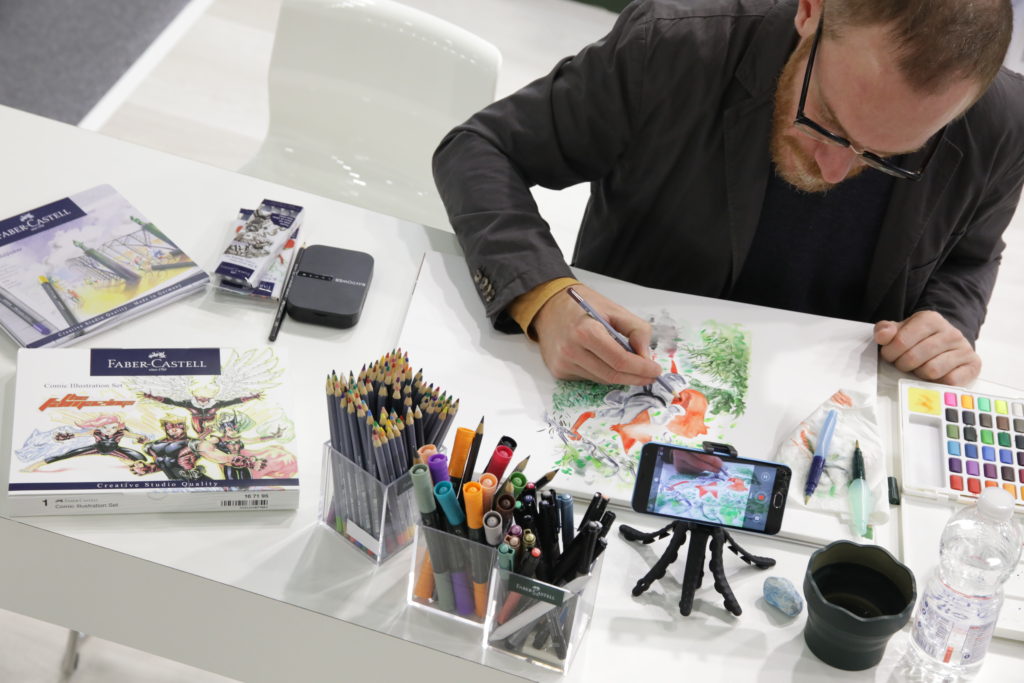 PROGRAM 2019

• A.W. FABER-CASTELL (STAND D27 E16)
Famazings from Faber-Castell arrived! Lab edited by a famous Italian cartoonist
Discover superheroes with exceptional powers born from the eruption of the volcano of the fantastic island of Ignivo and the new products of the Comics line of Faber-Castell. Get involved in the live performance of an established cartoonist who will reveal all his "tricks" to understand techniques of using references that make up the innovative range dedicated to artists, illustrators, creativity lovers, etc.
Wednesday 13 and Thursday 14 November from 9.30 a.m. to 6 p.m.
• CHAMELEON ART PRODUCTS (STAND F6)
Best combination of colours for a new creativity. Lab edited by the Artist Ramona Verdosci.
The correct use of the newest Chameleon items is the "heart" of this Lab held by a specialist of personalized creations. Many references will be used: two-color shaded pastels with two points, two-pointed markers (conical and brush), to which is added the infusion chamber for color gradient release and Color Top, for the fusion of two or more colors. And also the innovative fineliners with a 0.3 mm mono tip are the protagonists of the workshops, which change color only by replacing the one-color hood with another.
Wednesday 14 and Thursday 14 November from 9.30 a.m. to 6 p.m. – Friday 15 November from 9.30 a.m. to 5 p.m.
• CWR (STAND B23)
Let your creativity run free . Lab edited by Roberta Bolognesi.
DECO is our brand synonym of creativity that offers items and accessories for all lovers of craft and hobby. DECO is close to the needs of our costumers and to the new fashion trends.
With the new line of DECO products you can discover one of the most famous creative art… SCRAPOOKING: the art of preserving, presenting, and arranging personal and family history in the form of a book, box, or card.
A lot of new ideas to realize fantastic greeting card, Christmas card, with the DECO accessories.
Wednesday 13 and Thursday 14 November from 10.30 a.m. to 4.30 p.m.
• KOH-I-NOOR (STAND E18)
A lot of ideas for Calligraphy and for colouring with water-colours
Precise lines, mixable colors, no burrs, top inks and completely non-toxic for Dual Brush, the product chosen by the Company for this interesting Lab. So many suggestions are coming for you to write in a harmonious and unique way, and to give an original touch in addition to your design or decoration.
Wednesday 13 and Thursday 14 November from 9.30 a.m. to 6 p.m.
• PENTEL (STAND B17 C16)
For each style a Pentel Item. Handwriting demonstration by Barbara Calzolari
Pentel Arts products are particularly suitable for Calligraphy and Lettering and this Lab proves it. Starting from the skeleton of the Roman capital letters, to the block letters, following the shapes of the letters of the origin of the Latin alphabet, you can approach the signs of lower-case letters and upper-case letters of the English cursive alphabet, up to calligraphy and its art with brushes.
Wednesday 14 and Thursday 14 November from 9.30 a.m. to 6 p.m. – Friday 15 November from 9.30 a.m. to 2 p.m.
• SAUL SADOCH – REX E BRIZZOLARI FRANCESCO (STAND B19 C18)
Thursday 14 November at
11 a.m. Rex Club – Prestige and Elegance: how to make a gift package unique and precious
12 p.m. Save the Planet: how to wrap presents with 100% recycled paper cards and ribbons
2 p.m. Packages like mini bags: many ways to make up your gifts shaped like a mini
3 p.m. 3D Floreal Packages: how to make gift packages with paper flower and ribbon
4 p.m. Is it a ribbon?: ties, bow ties, spiral games, ribbons plots to garnish packages
After having found the right gift for a person or an anniversary, it is good to enhance it with an excellent presentation, because even looks count! Follow these Labs and discover the best materials, the most imaginative products and the most original combinations to wrap gifts like a professional.
• STAEDTLER (A11 B8)
FIMO Leather – it seems leather, but it doesn't!
Get ready to bend, cut, weave, grind, drill and even sew by hand objects made with FIMO Leather, the polymer clay with an incredible "skin" effect. Unleash your imagination and follow all the input provided by this Lab to make jewelry, decorations, fashion accessories and much more.
A creative journey with "Design Journey"
Give space to creativity using products from the Design Journey line on different supports such as wood, fabric, stones and papers. Grab the different versions of colored pencils, fineliner and pigment liner, and experiment with new ideas and original achievements.
Wednesday 14 and Thursday 14 November from 9.30 a.m. to 6 p.m. – Friday 15 November from 9.30 a.m. to 5 p.m.